NEWS
Watch Kendra Wilkinson-Baskett's Seven-Week Journey on 'Dancing With the Stars'!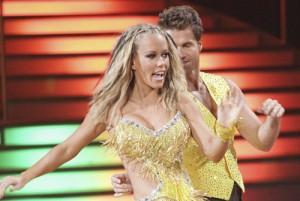 Kendra Wilkinson-Baskett's days on Dancing With the Stars may be over, but the former Playboy playmate certainly made huge strides during her seven-week journey on the dance floor. OK! takes a look back at Kendra's DWTS days in honor of our blogger's triumph in the hit reality competition!
Kendra took her elimination very well.
Article continues below advertisement
"I'm very happy today. I'm going back to being a mother," she told reporters last night after the live results show. "I was never a dancer, but this was a chance to really do something I've never done before and be a person I've never been before, and it was different. It was awesome!"
One thing is for sure — Kendra's fellow DWTS contestants are certainly going to miss her!
"Her free spirit and she's just an open book, she's not covert at all," Kirstie Alley told reporters of what she will miss most about the former Playboy bunny. "What you see is what you get, whether she is happy or upset. I admire her as a mother and I admire her the way she takes care of her son and her husband."
Watch Kendra's seven-week long journey below! Are you surprised she was voted off?
Week 1 — Cha Cha
Week 2 — Jive
Week 3 — Rumba
Week 4 — Viennese Waltz
Week 5 — Kendra dances the 1,000th dance with a patriotic Fox Trot!
Week 6 — Show-stopping Samba
Week 7 — Tango
Week 7 Results — Kendra's Elimination (via TV Squad)
Reporting By Amanda Champagne