NEWS
Kendra Wilkinson Chosen for 1,000th Dance on 'DWTS': "I Was So Proud, So Happy"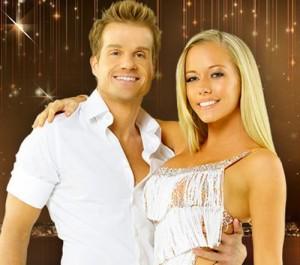 As Dancing With the Stars heads into the midpoint of Season 12, there's no denying last night's milestone! Kendra Wilkinson-Baskett and Louis Van Amstel were selected to dance the show's 1,000th dance as confetti exploded onto the dance floor!
OK! EXCLUSIVE: KENDRA WILKINSON'S BLOG — GIVING IT MY ALL
Kendra told reporters, "Being the 1,000th time with Louis and dancing "Yankee Doodle Boy" on top of that, I was so proud, so happy. I went into the dance super excited and so proud. Almost to the point that it was goofy. I took it serious but had a great time also."
Article continues below advertisement
OK! EXCLUSIVE PHOTOS: BEHIND THE SCENES AT DANCING WITH THE STARS, WEEK 4!
This was a drastic change from last week which left Kendra in tears! Chalking it up to the tunes, she added that's never danced to opera before. "The very sad song was a downer," she noted. "I'm used to dancing with a style. So that was the mood of the night last week."
Plus, it sounds like taking a break after the somber competition was just what this mom needed. "Last week we spent one whole day...we did our dance 15 times in a row, then the next day I came in and did the song great. So I came home and grabbed baby Hank and took him to the park. That's what I needed."
Reporting by Amanda Champagne