NEWS
Kendra's 'DWTS' Blog: Giving It My All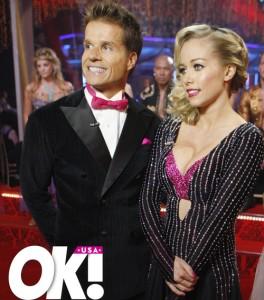 Every week, reality star, sports lover, mom and former Playboy bunny Kendra Wilkinson-Baskett will check in with OK! as she learns how to shake it on the dance floor on Dancing With the Stars! Aided by her pro partner, Louis Van Amstel, Kendra has gotten ready to rumba in no time!
Rehearsals were good last week, but a little later in the week I had issues with my shoulder. I actually popped it out of place on Sunday and I had to get it worked on for a lot of the night. But Monday I was ready to go. Rehearsals will be fun this week because it is a really fun dance.
Article continues below advertisement
OK! EXCLUSIVE PHOTOS: BEHIND THE SCENES AT DANCING WITH THE STARS WEEK 4
Being one with the music was really hard for me this week. I haven't really ever listened to opera or classical, so just finding a way to be one with it and get attached to it was the hardest part for me.
I loved the words "time to say goodbye" and it was Italian so I thought MOB. I love the mob theme, I LOVE The Sopranos and the whole thing. That's what really got me involved, I got to work on my costume too, so it was fun.
I could have three sixes all season long, but I deserve an "A" for effort, haha! I got what they were saying. The only thing, I guess, is that I wish they wouldn't focus on too much is the whole "sexy thing."
OK! GALLERY: DANCING WITH THE STARS CONTESTANTS PRACTICE FOR CLASSICAL WEEK
I gave it all I had Monday and that's all you can do. I always will spend a lot of time thinking of what I could have done differently, but as long as I gave it all I had, I can be happy with myself.
Article continues below advertisement
It's awesome having my family's support. I love looking over and seeing everyone in the audience. Hank's family has even came in a couple times, which is so nice. Some of my friends have been at EVERY show too, which is so nice. Hank it amazing too. He's always there for show days and as many results shows as he can. It's so nice.
OK! EXCLUSIVE: KENDRA WILKINSON'S DWTS BLOG — GETTING LOST IN THE FOG!
Hank is just so proud of me. He can really see how much I am trying and learning and giving it my all, so he's always proud of me. It's nice to have someone in your corner who can be honest with you, but still be so proud every time.
I loved Chelsea Kane and Mark Ballas's dance this week. I think Chelsea is just so talented - if she wanted one, I think she could totally have a career in dance. She's an amazing dancer.
Article continues below advertisement
OK! EXCLUSIVE PHOTOS: BEHIND THE SCENES AT ABC'S DANCING WITH THE STARS WEEK 3
I have jitters every time I go on stage. Every time, but they have gotten a lot better. Before the show, I try to just keep everything the same, everything is in the same place and I hope that everyone acts the same! Haha... I want everything to be the same as it is every day. If I feel like it's a "show day" I get nervous, so I don't like that.
I'm happy that I'm safe but it's still hard to see other people go because your with these people so much that it's hard to see them go when they are eliminated. I'm excited for next week though, I think our dance will be really fun!
Kendra