NEWS
Kendra Wilkinson: Not Pregnant, Not Dancing Like Kate Gosselin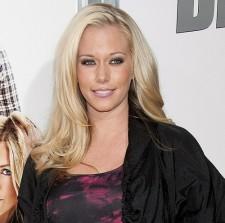 Kendra Wilkinson is letting a couple things be known: First, she's not pregnant and second, she wouldn't join Dancing With the Stars like Kate Gosselin — not when she has little Hank at home.
OK! COVER STORY: KENDRA REVEALS "HOW I LOST ANOTHER 10 POUNDS"
Kendra confirmed to OK! as well as E! News that although there have been some rumors, she is not pregnant.
"I'm definitely not pregnant," Kendra told E! News. "Right now, I'm focusing on spending time with my husband and my son and just enjoying our time as a new family."
Article continues below advertisement
As for having another baby Kendra told OK!, "Not for awhile."
The reality star mom may only have a family of three with hubby Hank Baskett for now, but she still wouldn't want to leave her son to be on a show like Dancing With the Stars.
CLICK HERE FOR ALL OF OK!'S KENDRA NEWS AND PHOTOS!
Kendra appeared on the Today show and chatted with Hoda Kotb and Alan Thicke, filling in for Kathie Lee Gifford, about her E! reality show Kendra and her new son Hank. But, she also shared some advice to another reality star mom.
"Kate is on Dancing With the Stars," Kendra said. "I just told my publicist, if I were asked to go on Dancing With the Stars, I don't think I'd do it. I would definitely say no to it, because I am that mom that wants to be there every step. I don't want to spend three months away from my baby. I just couldn't do that."
OK! NEWS: KENDRA TV RECAP: INSIDE HANK & KENDRA'S FIRST POST-BABY DATE NIGHT
Since her appearance on the show, Kendra sent out a Tweet trying to clarify what she said.
Additional reporting by Valerie Nome