NEWS
Kendra Wilkinson's 'DWTS' Blog: Hitting My Stride!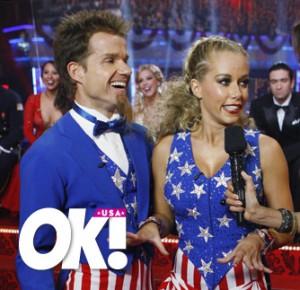 Every week, reality star, sports lover, mom and former Playboy bunny Kendra Wilkinson-Baskett will check in with OK! as she learns how to shake it on the dance floor on Dancing With the Stars! Aided by her pro partner, Louis Van Amstel, Kendra has gotten ready to rumba in no time!
First off it was awesome to dance the 1,000th dance this week! They told us the day before but it didn't really hit me until that next morning. Just knowing how much preparation it takes to do one dance it was crazy to think there had been 1,000! It was such an honor.
Article continues below advertisement
KENDRA WILKINSON'S DWTS BLOG: GIVING IT MY ALL
I think this week I was more confident. My hair stylist was over the other day and we looked up the song and its meaning and history and for some reason once I knew the meaning of it and why it was written and all tha,t I felt a connection to the song. I think that's what I really needed was to have a connection to the song and I really got that this week.
I feel a little bit vindicated from last week, but I still want to keep getting better. I feel like I did better but I can keep improving.
I always want to impress Louis. I always want to make him proud. But also myself. I want to be able to watch the playback and know I did the best I could this week and that Louis can see that and I think he did. Of course my husband too.
Article continues below advertisement
Seeing John Travolta (as Kirstie's dance doctor) was AWESOME! I loved the Look Who's Talking movies! The best advice given to me was to just breathe! Haha! I also am skeptical of people saying "good luck" to me before I go out so everyone says "have fun" — LOL.
The biggest change I've seen so far has been my muscle tone in my legs for sure. Don't worry I see Baby Hank all the time, the schedule really works around mine.
As for next week... YES I am so nervous to dance two dances! I can't even think about that though or I will get nervous thinking about it. Learning one dance is hard enough for us! LOL! Two dances is going to be really hard, especially because I found dancing to the songs SO much easier when I had a real connection to them. I'm worried that I will have a hard time connecting to both songs and being able to separate them.
I'm so glad I was safe another week, now time to start practicing for next week!
Kendra