NEWS
Kennedy Granddaughter Gets Big Break in Aaron Sorkin's New Show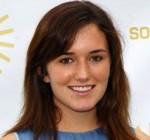 As Aaron Sorkin develops a cable news drama, More As This Story Develops, for HBO, it sounds like the back story is developing as well! Kathleen "Kick" Kennedy, daughter of Robert F. Kennedy, Jr. and granddaughter of the late Robert F. Kennedy, has landed a role in the show, thereby making it her first official major role!
OK! NEWS: AARON SORKIN ON MARK ZUCKBERG — "MY HAT'S OFF TO HIM"
According to The New York Post (via Huffington Post), the Kennedy clan seems to have acting in its blood. The Kennedy patriarch, Joseph Kennedy, was a head honcho of a studio back in the day and after the 1960s the family itself became the subject of various productions throughout the years. As for a bonus to starring in a show or movie? Having the topic be about something other than your own family.
Article continues below advertisement
Kick joins a cast that includes Jeff Daniels, Olivia Munn, Sam Waterson, Josh Pence and Emily Mortimer. Aaron, The Social Network Oscar-winning screenwriter, has indicated he wants to take a cynical stance of perceiving news media.
OK! NEWS: KATIE HOLMES & GREG KINNEAR'S THE KENNEDYS BRING RECORD RATINGS TO REELZ
He told the TV Guide, "It'll be aspirational. It'll be wish fulfillment....In other words, it's not going to be a fantasy. They're going to be trying to do well in a context where it's very difficult to do well when there are commercial concerns and political concerns and corporate concerns."