NEWS
Keshia Knight Pulliam Grows Up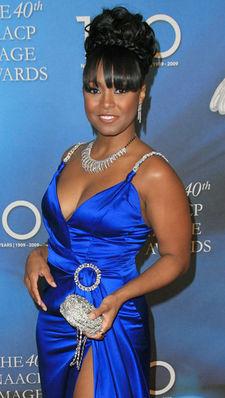 Keshia Knight Pulliam plays a drug-addicted prostitute in Madea Goes To Jail, but in real life the actress best known as the youngest Huxtable on The Cosby Show has avoided the pitfalls of stardom.
In fact, Phylicia Rashad, who played her TV mom from 1984-1992, even shows up to the NYC premiere of the Tyler Perry flick held this week at AMC Loews Lincoln Center.
"I'm just so happy to see her," Keshia gushes.
Article continues below advertisement
Now 29, the former child star graduated with a sociology degree from Spellman College in 2001, and has been acting steadily ever since. Impressive, considering she got her start at age four on the long-running sitcom.
How did she stay out of the trouble that has befallen so many child stars like Full House's Jodie Sweetin, who battled meth addiction, Dana Plato, who died of a drug overdose after Diff'rent Strokes, and Jaimee Foxworth, who turned to porn post-Family Matters?
"I was always busy and so active. I come from a no-nonsense family, so it really wasn't much of an option."
Lucky for Keshia, she has two families keeping her in line. In addition to her real-life family, the Cosby cast including Bill Cosby, Phylicia, Malcolm-Jamal Warner, Tempestt Bledsoe, Lisa Bonet and Raven-Symone provide solace.
"We keep in touch periodically," she says of the Cosby cast. "Sometimes we talk more than others, but at the end of the day, we worked together for eight years, and they're like my pseudo family. I don't care if it's been fifteen years since I've seen someone. We pick up right where we left off."
Article continues below advertisement
What advice would she give to today's child stars like Miley Cyrus?
"You really have to take time to get to know yourself, who you are … not with all the different labels that people put on you. You have to live for yourself. You can't make everybody happy. As long as at the end of the day, you know you've done what's right, that's all that matters."
For Keshia, keeping a positive attitude is key to moving forward.
"I think every day is a challenge, and I love challenges. I think that's the great thing about life. It's taking on those challenges and conquering them. Every day it's something new."
What is her proudest achievement?
"Just being a happy, well-adjusted woman who is intelligent with her head on her shoulders and has her whole life in front of her. And that I've been able to sustain in this business for so long."
For more on Keshia Knight Pulliam, pick up the OK! out now. Jen & Angie: "Face To Face" is the cover line.
Madea Goes To Jail is in theaters now.