NEWS
Kevin Smith Drops 65 Pounds!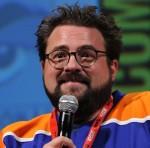 Imagine, if you will, being on an airplane and getting kicked off for being called "too fat." Director Kevin Smith felt at that moment it was time to lose weight. And that he did! He recently lost 65 pounds after that plane incident.
OK! NEWS: RED STATE REVIEWS — KEVIN SMITH'S FILM NOT A HIT AT SUNDANCE
Here's the scoop according to PopEater: About a year ago while on a Southwest flight he was instructed to leave because he was "too fat" to fly. In response, he tweeted, "The @SouthwestAir Diet. How it works: You're publicly shamed into a slimmer figure. Crying the weight right off has never been easier!"
Article continues below advertisement
Even though he's lighter on the scale, Kevin is still fuming about getting thrown off last year's flight and "felt at that moment 'I'll lose the weight but I'm not putting on thinner clothes.' I'm still the same person I was when I was 65 pounds heavier." He adds, "Sometimes a fat dude has a lot to offer, if you can just get past the blubber."