NEWS
Director Kevin Smith: Southwest Airlines Says I'm Too Fat to Fly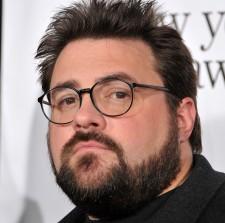 Director Kevin Smith has accused Southwest Airlines of throwing him off a flight for being too fat to fly, taking to Twitter to unleash a tirade at the company.
"Dear @SouthwestAir - I know I'm fat, but was Captain Leysath really justified in throwing me off a flight for which I was already seated?" his Twitter rant began.
OK! NEWS: JOAN RIVERS "HELD HOSTAGE" IN AIRPORT
"Dear @SouthwestAir, I flew out in one seat, but right after issuing me a standby ticket, Oakland Southwest attendant Suzanne (wouldn't give last name) told me Captain Leysath deemed me a "safety risk".
Article continues below advertisement
"Again: I'm way fat... But I'm not THERE just yet. But if I am, why wait til my bag is up, and I'm seated WITH ARM RESTS DOWN. In front of a packed plane with a bunch of folks who'd already I.d.ed me as 'Silent Bob,'" Kevin continued in a succession of Tweets, referencing his character from Clerks and Jay and Silent Bob Strike Back.
OK! NEWS: RICHARD SIMMONS WORKS IT OUT
Kevin, who appeared in Live Free or Die Hard with Bruce Willis, didn't let it rest there: "So, @SouthwestAir, go f*** yourself. I broke no regulation, offered no "safety risk" (what, was I gonna roll on a fellow passenger?). I was wrongly ejected from the flight (even Suzanne eventually agreed).
"And f*** your apologetic $100 voucher, @SouthwestAir. Thank God I don't embarrass easily (bless you, JERSEY GIRL training)," he Twittered, mentioning the public disdain for Jersey Girl, his 2004 bomb starring former couple Ben Affleck and Jennifer Lopez. "But I don't sulk off either: so everyday, some new f*** you Tweets for @SouthwestAir."
OK! NEWS: BRUCE WILLIS' TROPICAL WEDDING
Responding in kind, Southwest issued their response to his complaints on Twitter: "I've read the tweets all night from @thatkevinsmith - He'll be getting a call at home from our Customer Relations VP tonight."
Article continues below advertisement
But that wasn't enough to stop Kevin's rant: "The @SouthwestAir Diet. How it works: you're publicly shamed into a slimmer figure. Crying the weight right off has never been easier!"
OK! NEWS: SETH ROGEN LOSES WEIGHT, KEEPS GIRL
His barbs retained their humor, though, especially when he posted about arriving at his destination: "Hey @SouthwestAir! I've landed in Burbank. Don't worry: wall of the plane was opened & I was airlifted out while Richard Simmons supervised."
Southwest, meanwhile, posted a long explanation for the situation on their blog noting: "It is not our customary method of Customer Relations to be so public in how we work through these situations, but with so many people involved in the occurrence, you also should be involved in the solution.
OK! NEWS: BAR REFAELI FLIES IN SOUTHWEST PLANE BEARING HER OWN IMAGE
"First and foremost, to Mr. Smith; we would like to echo our Tweets and again offer our heartfelt apologies to you. We are sincerely sorry for your travel experience on Southwest Airlines."