NEWS
Kevin Smith Says: "I Became A Stoner Because of Seth Rogen"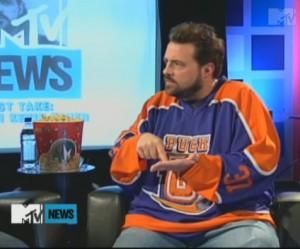 The best gift Kevin Smith says he's received, in the past five years, was from Seth Rogen. Kevin says Seth is the reason he started smoking pot, which is how he started working again.
OK! NEWS: KEVIN SMITH DROPS 65 POUNDS!
"One of the most talented people I worked with in my life was Seth Rogen," Kevin told MTV News on Tuesday. "I got so much from him. He re-energized me in a weird way. I became a stoner because of Seth Rogen."
Article continues below advertisement
While Kevin worked with Seth on the set of Zach and Miri Make a Porno, he says he was amazed that Seth was a "functioning stoner." So he decided to join him.
"I went up to him and was like, 'How about we go to the editing room tonight, watch some cut footage, and maybe share a joint?'" Kevin recalled. "He goes, 'Finally!' And it was awesome. We sat back, watched some footage and sat there smoking. And I loved who I was. I loved how the inhibition dropped away and I loved just being honest."
OK! NEWS: RED STATE REVIEWS — KEVIN SMITH'S FILM NOT A HIT A SUNDANCE?
And Kevin gives all the credit to pot for getting him back to work.
"That dude gave me the greatest gift I've had in the last five years," Kevin said. "The moment I start smoking, I start working. ... That way, no one could ever take it away from you. No one could ever say, 'You fat, lazy piece of sh** stoner!"