NEWS
Khloé Kardashian Gives Lamar Odom a "Very Romantic" Birthday Weekend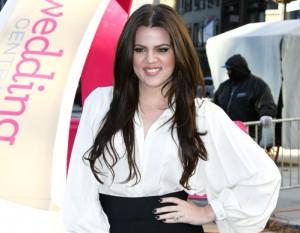 On Tuesday morning, Khloé Kardashian Odom made it out early to help judge Wedding Central's "If The Shoe Fits" competition. Khloe also took a few minutes before judging to talk to OK! about her husband Lamar Odom's romantic birthday weekend.
OK! GALLERY: KARDASHIAN SISTERS LOOK DASHING IN BLACK AT DASH NYC OPENING
Khloé told OK!, "We actually hung out one-on-one, very low key at the house. He had a work appearance in Mission Viejo, Calif. so we did that together. I went with him. Then we just hung out at the house, had a dinner and everything. Very romantic."
Article continues below advertisement
What did she get the L.A. Lakers star?
"He loves jewelry. So I custom made him some jewelry pieces. He's incredibly hard to shop for, but he says I'm harder so I think everyone just says that but I'm more into sentimental stuff. I make sure if it is jewelry, because I know he likes it, that I do it so it has certain symbolism in it for him."
OK! GALLERY: KHLOÉ & KOURTNEY TAKE ON NYC'S SHOPPING OPPORTUNITIES
And what about those rumors that she's jealous of Lamar and her brother Rob Kardashian's growing friendship? (He lives in their house!)
"You can either have it two ways, you know your brother and your husband don't get along or in my circumstances they love each other," she told OK!. "They each don't have brothers, so they're now each other's brothers. I'm blessed to have it my way. I only want it my way."
"But yes, obviously I go through my selfish phases where I think, 'I want to hang out with Lamar.' But it's such a blessing," Khloé added.