NEWS
Khloe Kardashian Odom on Not Liking Kris Humphries: Implied She Was "Faking" Her Marriage for Money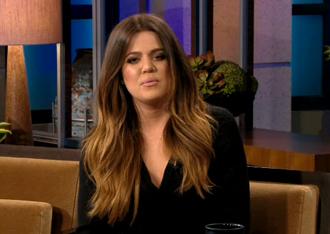 It's no secret that Khloe Kardashian Odom wasn't the biggest fan of sister Kim Kardashian's soon-to-be ex-husband, Kris Humphries, but now we're learning why. Khloe stopped by The Tonight Show with Jay Leno last night and shared how Kris "rubbed her the wrong way" when they first met, and she never forgot it.
OK! GALLERY: KRIS HUMPHRIES "FELT LIKE RUDY" DURING NEW JERSEY NETS GAME
"When I met Kris the very first time, I had just landed in New York and it was late at night... and he was in Kourtney and Kim's suite," she explained to Jay Leno during his show. "And I went in there to say hi because Kim was like, 'Oh, I want to introduce you to my friend.' They'd just started dating. And you know, one of the first things that came out of his mouth, like within the first five minutes, was, 'So, how much you gettin' paid to fake your marriage? Like, how long are you gonna keep this up for?' "
Article continues below advertisement
Jay asked Khloe if that means she wasn't suprised that Kim's marriage to Kris ended after 72 days.
"I mean, I said it before they got married," Khloe explained. "I can't lie and say, 'Oh, this is perfect,' if I feel in my heart that I just didn't agree with it."
Watch Khloe's interview over at nbc.com.