NEWS
Khloe Plays Matchmaker for Kourtney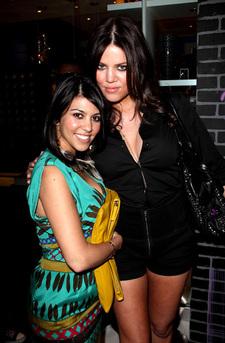 Who needs a dating coach when you've got a sister just foaming at the mouth to set you up with a guy? Khloe Kardashian is getting revenge on her single sis Khloe Kardashian by announcing on her official blog that she's holding a casting to find the perfect guy for her.
"So remember when Kim and Kourtney set me up on a bunch of blind dates without my knowledge??? Well now it's my turn to have a little fun!" she writes, in post titled "It's Payback Bitches!!!!!"
Article continues below advertisement
"Kourtney hates the 'getting to know you' game, as she calls it, so she NEVER dates! So I decided that it was my responsibility to help my dear sister find a suitable, and sexy, companion. LOL.
So all of you eligible bachelors out there, if you think my sister Kourtney is a hot bitch and you want to date her, swing by DASH in Miami this Thursday, June 4th at noon so I can judge ALL of you! Who knows? You just might be picked to go on a date with Kourtney! ;)"
Khloe even goes so far as to broadcast their location, adding, "We're located at 815 Washington Avenue (8th st. and Washington). Hope to see some of you there!!!!"