NEWS
Kim Kardashian on Being a "Neat Freak": "I Think I Was a Housekeeper in My Past Life"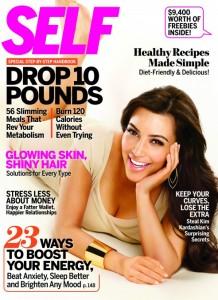 Kim Kardashian is on the April cover of Self magazine, in which she shares her best beauty advice and explains why she's a "neat freak."
OK! COVER STORY: KIM KARDASHIAN'S DREAM WEDDING
"I am so pleased with the way my cover for SELF Magazine came out!" Kim wrote on her blog. "We went for a more natural, pretty shoot, as opposed to going super glam and I'm loving the cover. What do you guys think?"
Kim may have gone "natural" for the cover, but she does have some beauty secrets to share with her fans.
Article continues below advertisement
"My hair tricks are that I don't wash it every day, which helps it shine," she tells Self. "I also switch up what shampoo I use all the time."
"I'm obsessed with my nails," she also shares. "I get them done once or twice a week because it makes me feel clean. My favorite color right now: OPI's Midnight in Moscow."
Bet that will sell out completely now!
And Kim likes to keep more than just her nails clean.
"I'm the biggest neat freak at home," she says. "I don't have people over for that reason, because I don't like anyone in my space. I think I was a housekeeper in my last life. Sitting at home in sweats and cleaning out my closet would be a perfect night for me."