NEWS
Is Kim Kardashian Cheating on Kanye West?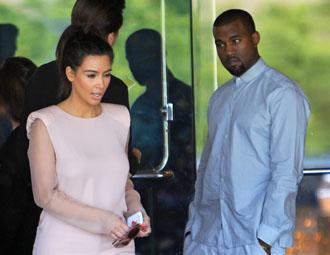 One night, not so very long ago, Kim Kardashian and Kanye West were cuddling tenderly in bed, drowsy from a full day of celebrity and relentless self-promotion.
Then a phone rang. Or beeped. Or whatever.
OK! GALLERY: KIM KARDASHIAN, KANYE WEST, BEYONCE & JAY-Z ATTEND THE 2012 BET AWARDS!
"Kim got a text message," an insider tells OK!. "She usually leaves it on silent but she forgot that time and it caused a big fight."
Article continues below advertisement
And why on earth would that be — is Kanye some kind of technophobe? No, in fact, he was simply, furiously, jealous.
Ever since the megastar hooked up with Kim, he's been looking over his shoulder, wracked with insecurity and convinced that monogamy is not the reality TV diva's strong suit.
Kim, for her part, was outraged and offended by Kanye's suspicions.
"She told him then and there that he could check her phone anytime he wanted to and handed it over," the insider reveals. "Luckily, it was just her sister and not a guy." Especially one guy, in particular.
OK! NEWS: KIM KARDASHIAN "LOVES" THAT KANYE WEST IS "OLDER AND WISER"
"Kanye was sure it was going to be Kim's ex and, some say, greatest passion Reggie Bush," the insider tells OK!. "He's paranoid that Reggie is going to come back and haunt them."
The rapper's reasoning is elegantly simple: When Kim was dating Reggie, she was reportedly running after Kanye. Now, the roles have switched.
FOR MORE ON KIM & KANYE'S CHEATING SCANDAL, PICK UP THE NEW ISSUE OF OK! ON NEWSSTANDS NOW!