NEWS
Kim Kardashian Defends Little Sister Kendall Jenner's Bikini Shoot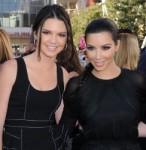 Kim, Kourtney and Khloe Kardashian's little sister Kendall Jenner caused a storm of controversy by posing seductively in a tiny bikini, but her family stand by the mature modeling shots.
"When you're a model, you clearly have to show your body," older sister Kim told Access Hollywood of her 15-year-old sister's pictures.
OK! NEWS: KENDALL JENNER IN MATURE BIKINI SHOOT
"They needed some portfolio pictures, and so that's what they requested… It's completely normal."
Article continues below advertisement
Kendall's father, Bruce Jenner, said that he does not think the pictures were "inappropriate whatsoever," although he was unaware of the stir they were causing since he was in the country at the time.
OK! NEWS: KOURTNEY KARDASHIAN & SCOTT DISICK ARE IN "A GOOD PLACE"
"We go to my sister's family's ranch up in Wyoming… I come home and I ask, 'How's everything going, honey?' and she goes 'Oh my God, the Kendall controversy!'" Bruce laughed. "Huh? There were no TVs up there, no nothing, we didn't know."
Kendall's mom Kris Jenner doesn't understand what the fuss is about. "It's just sort of ridiculous because you're creating a look as a canvas — I mean, that's what models do," Kris said. "I think it was all just sort of a lot of nonsense for nothing."
OK! NEWS: KIM K. & JUSTIN B. CHANNEL THE GRADUATE IN PHOTO SHOOT
Kim, who's no stranger to sexy bikini shots, praises Kendall's pictures. "She looked gorgeous," Kim gushed. "She's not risque at all — I mean, she has no curves."
"And we know risque in this family," said Bruce.