NEWS
Kim Kardashian Knows the Way to Reggie's Heart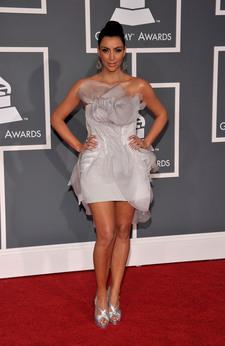 Reality star <a href="https://okmagazine.com/search/kardashian" target="_blank"><strong>Kim Kardashian</strong></a> knows the way to boyfriend Reggie Bush's heart.
"She's the first girl that's ever cooked a meal for me," Reggie, 23, told OK! at the Direct TV Celebrity Beach Bowl. "That's honestly how she got me – with the food!"
"We were kind of dating and she said, 'I can kind of cook good.' And I said, 'Yeah, right, you can't cook!'"
Article continues below advertisement
Keeping Up With the Kardashians star Kim, 28, did more than prove her man of almost two years wrong.
"She cooked one of my favorite meals, corn bread, macaroni and cheese, candy yams and fried chicken and it was ridiculously good," the New Orleans Saints running back revealed. "My boys were there and the first thing they said was, 'she's a keeper!'"
Kim's cooking skills might have sealed the deal for Reggie, but it was her assets that got his attention from the start.
"I was already stunned by how beautiful she is and then when she cooked the meal for me," Reggie explained. "And she's pretty too, it's done. You can't ask for much more."
Kim's family has found equal affection for the football star.
"He needs to marry my sister," says Kim's sister Khloe, 24. "I can't deal without Reggie in my life."
While there are no plans for a wedding anytime soon for the young couple, Reggie says their relationship is for real.
Article continues below advertisement
"It's true love," Reggie says. "It's not a fake relationship or anything that's for publicity. We're really actually in love and we have a good time. We enjoy each other's company."
While Reggie's love for Kim's cooking may be filling to his stomach, he says it also shows how the reality star and former Paris Hilton best friend, is really an old-fashioned girl at heart.
"She's a great girl," Reggie says. "And you know, that's something that you don't see a lot in this generation. I think some of those family values and traditionally values have been lost. And she can cook very well and I think that says something about her."