NEWS
Kim Kardashian & Kris Humphries Are Kelly Ripa & Nick Lachey's Halloween Costume of Choice!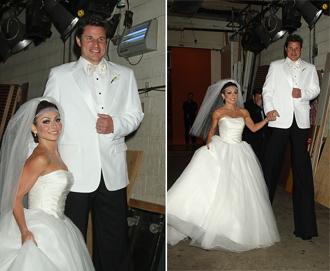 Article continues below advertisement
On the same day Kim is filing for divorce from the NBA player, Kelly and Nick channeled the newlyweds, who married on Aug. 20 in an extravagant affair in front of over 500 guests.
"Yes @kimkardashian is filing for divorce this morning. I touched base with her, getting a statement in just a few mins" Kardashian family friend and producer of their reality shows Ryan Seacrest Tweeted this morning, confirming the split.
Kelly and Nick paid close attention to detail for the costume as Nick walked on stilts for the occassion to truly embody giant-sized Kris.
Kelly's many other costumes included Kate Middleton, Sammie from Jersey Shore, Lacey Schwimmer from Dancing With the Stars, Justin Bieber, Katy Perry and a Toddlers & Tiaras pint-sized pageant princess.
And "Regis" even made a special cameo at the end of the show.
Article continues below advertisement
OK! COVER STORY: KRIS HUMPHRIES BEGS KIM KARDASHIAN — "DON'T LEAVE ME"
Supermodel Heidi Klum — a known Halloween fanatic — put on a suit and some serious makeup to play the 80-year-old TV legend.
But Heidi told Kelly she did not plan on wearing the Regis costume tonight to her New York Halloween party — instead she is going as a monkey.
"It's very hard being Regis," Heidi shared. "All these wrinkles. I can only deal with it for so long."
Regis last day on Live! is Nov. 18.