NEWS
Kim Kardashian & Kris Humphries Talk Reunion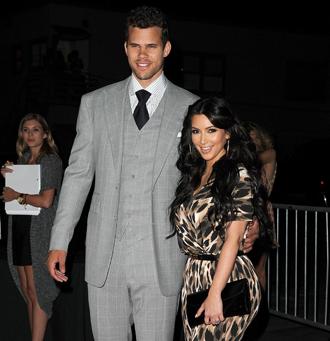 They insisted that Kris Humphries would not be answering personal questions, but as the tall NBA star stood on the stage at the Trump SoHo New York hotel on Nov. 17, the question everyone wanted to know was thrown at him. "Have you talked to Kim?" shouted a TV reporter at the Sector watches event. "Have you talked to her at all?"
Kris only grimaced and allowed himself to be ushered out of the ballroom by his handlers. "He looked uncomfortable and taken aback, exposed and vulnerable," said a witness. OK! has all the details in this week's issue!
Article continues below advertisement
OK! NEWS: ROB KARDASHIAN FEELS LIKE A 'DWTS' CHAMPION: "I COULD NOT HAVE ASKED FOR A BETTER ENDING"
Kris, 26, didn't answer the question, but insiders say that he and his estranged wife, Kim Kardashian, 31, are still communicating."Kim is still talking to Kris," explains a Kardashian friend, "but she is still so sad and just doesn't know what the future holds."
Though it's been an uneasy interaction, Kris managed to score some points with Kim when he became more understanding of her feelings. "That change of heart may have come because he realized there was no other option," says an insider. "Kim's heart softened a little toward Kris because he's suddenly become very cooperative. He stopped fighting with her. Now he's trying to get on Kim's good side."
Kris' new attitude has helped extinguish some of Kim's anger toward him. "He's been calm and respectful, and that seems to be making a huge impact," says the insider. "Some people in her inner circle are even saying that it's winning her over. She was on the warpath before, but now suddenly she's back to being upset over losing what they had. The truth is that Kim has always been very emotionally invested."
Article continues below advertisement
OK! NEWS: JACKIE CHRISTIE OF 'BASKETBALL WIVES L.A.' ON KIM KARDASHIAN: "I REALLY ADMIRE HER A LOT"
Her employers, the E! network, hope it's enough to get her to reconsider her earlier stance on Kris. Immediately after the divorce became public, publicists for the cable network, which airs Kim's show, wanted Kim and Kris to do a joint interview, says another Kardashian pal, but at the time Kim rejected the idea. Now, some of her friends say she might be amenable to making a reunion with Kris public.
FOR MORE ON KIM AND KRIS' POTENTIAL REUNION, PICK UP THIS WEEK'S ISSUE OF OK! — ON SALE EVERYWHERE NOW!