NEWS
Kim Kardashian is Not on Facebook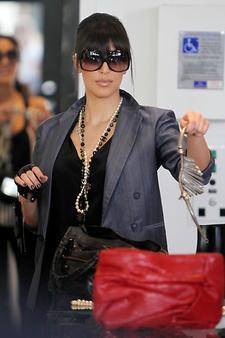 Is it just us or is Kim Kardashian trying really hard to get her voice heard these days--first with all those comments about being personally offended by critics who slammed Jessica Simpson's weight, and now, with a random blog about how she's absolutely not on Facebook people!
On her official blog, Kim writes, "For the hundred thousand trillionth time I DO NOT HAVE A FACEBOOK ACCOUNT!!!! A blogger, who obviously didn't do his homework--stated yesterday that my Facebook account got hacked into and that my alleged account sent out an email blast to all my Facebook friends complaining about it."
Article continues below advertisement
She continues, "I am so sick of people saying I got engaged because my Facebook profile says so, or I'm single now because my Facebook says so! Call me old school but I love MySpace and I used to love Friendster! Maybe I need to get a Facebook account to shut down all of these fakes!"
Fair enough Kim, fair enough. But just to play devil's advocate--OK! happens to have a source who claims the reality t.v. star actually does have a Facebook account. A former high school classmate of Kim's tells OK! that she was "friend requested" by the Keeping Up With The Kardashians star, and has several other Marymount High School alums listed as friends.
"Her name is listed as "Kimmy" on her page and it doesn't say she's single or engaged. There's one picture posted and it's an old one from a dance with a bunch of us from high school," the source tells OK!. "If the page was fake, how could she have friend requested me?"
The mystery continues!