NEWS
Kim Kardashian Opens Up About Wedding Experience: "Everything That I Have Dreamed of and More"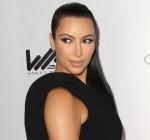 Considering it's only a matter of days left before her big day, a cool, calm and collected Kim Kardashian celebrated the 3D cover for the World's Most Beautiful Magazine at the W Hotel in West Hollywood. Right on the heels of flying in from NYC for a dress fitting at Vera Wang, Kim told OK! the wedding planning experience has exceeded her wildest dreams!
OK! COVER STORY: KOURTNEY & KHLOE REVEAL DETAILS OF KIM KARDASHIAN'S WEDDING
Article continues below advertisement
First, Kim mentioned when she found out she was shooting the cover of this magazine, she told reporters, "I had no idea that it was going to be in 3D so that was really cool." As for her first reaction? After putting on the 3D glasses she added, "I was like, 'Are you kidding me?' (laughs) It was so cool!"
OK! COVER STORY: INSIDE KIM KARDASHIAN'S BRIDAL SHOWER!
Considering her wedding day with Kris Humphries is right around the corner she told OK! the whole wedding planning experience has been a complete dream. "I mean it's beEN so like everything that I have dreamed of and more. I had no idea how much work really goes into wedding planning and I really do have this newfound respect or Sharon Sacks, my wedding planner!"
OK! GALLERY: KIM KARDASHIAN & KRIS HUMPHRIES VISIT HER FATHER'S GRAVE SITE IN L.A.
Adding her excitement to the mix, the starlet is surprisingly relaxed. She told reporters, "It is coming up, yeah! I am actually really calm." Maybe that's because some jitters occurred at the beginning of the planning process?
OK! NEWS: JUSTIN BIEBER & SELENA GOMEZ INVITED TO KIM KARDASHIAN'S WEDDING, REPORT SAYS
She added, "No, everyone says that you freak out, but I think that all of my freak out moments kind of happened at the beginning when we decided to get married this summer so that's like when you are like, 'Oh, when and where?' So once all of those decisions were made, like this week I have been really calm."
Reporting by Gena Oppenheim