NEWS
Kim Kardashian Snaps Back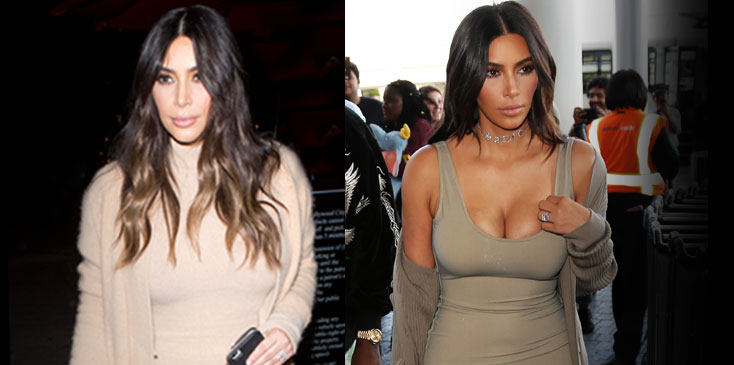 Kim Kardashian famously retreated into hiding for months after giving birth to her first child, daughter North West, three years ago; she was determined to shed the 50 pounds she'd gained away from prying eyes. Now, six months after her son, Saint, was born, Kim, 35, is out, about and all over social media, proudly celebrating the weight she's lost.
After gaining 60-plus pounds this time around — and declaring that her New Year's resolution was "to shed the baby weight" — Kim has stayed focused, not just on dietary cutbacks but on serious, consistent workouts.
Article continues below advertisement
FEELING THE BURN
"We're back at it hard-core," Kim recently Snapchatted from a gym session, where she appeared laser-focused on shedding a few extra vacation pounds. ("Ugh, I leave L.A. for a few days, and I miss my workouts and eat bad. What happened?!?!?!" she tweeted, after returning from a tropical getaway with husband Kanye West and their two kids.) But a minor setback won't stop her. Kim has reportedly had her eye on the magic number 120, which was her weight in 2010, three years before giving birth to North. When the scale read 132 in late May, Kim declared, "Twelve pounds to go to reach 2010 Kim!" And in the past couple of weeks she's been determined to maximize every single sweat session. "In order to make time for the gym, sometimes she gets up at 3 or 4 AM," says a friend. "It's been really hard, but she has great trainers helping her out."
SWITCH IT UP
One of those trainers, Harley Pasternak, says Kim's finally figured out the key to loving her workouts: variety. "Kim works with a few different trainers and does different methods so she doesn't get bored," says Pasternak. "She keeps it fresh." Pasternak helps her keep track of her steps with a FitBit — 10,000 a day or bust! — and Kim also loves intense classes at boutique studios such as Barry's Bootcamp, Pilates Plus and SoulCycle.
Article continues below advertisement
KEEP IT IN THE FAMILY
Perhaps most important, Kim's built up a support network around her: She's has posted Snapchat vids of Kanye joining her for a sprint workout and has started tagging along to newfound fitness fanatic Khloé's sweat sessions. And though Khloé recently said that she and Kourtney push it during family workouts, while Kim "sort of prances and is super cute and gorge," Kim seems determined to prove otherwise. "To say she's been dedicated would be an understatement," says her friend. Adds her nutritionist Colette Heimowitz, "She's smart and she's motivated and she's committed."
---
SPONSORED: THE FASTEST WAY TO SHAPE UP
You don't need fancy trainers to lose weight – rely on SlimFast instead. It's not too late to get the beach body you crave – even if you don't have time to work out for hours each day like the stars. Start on the proven SlimFast plan now, and you can lose as much as six pounds in just two weeks!
It's this easy: Drink two delicious Advanced Nutrition shakes per day (packed with protein and fiber, they stave off hunger for up to four hours), enjoy one healthy meal and treat yourself with SlimFast's prepackaged 100-calarie snacks to satisfy cravings. Then, buy a new bikini and get ready to strut your stuff on the sand.