NEWS
Kim Kardashian Struts Her Stuff in NYC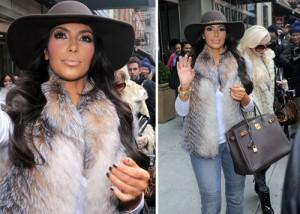 We know that Kim Kardashian has a flawless face, but would it hurt her to move it just a little bit? Kim did her best impression of the wax version of herself while leaving her hotel in NYC on Friday. With not a smudge of makeup out of place and every strand on her (faux, we hope) vest perfectly waving in the wind, Kim made her way past photogs with nary a facial expression in sight.
Article continues below advertisement
Kim has been showing up everywhere lately as she and her sister Kourtney Kardashian film their next reality TV show, Kim and Kourtney Take NYC.
OK! SPECIAL: HALLOWEEN COSTUME INSPIRATION — WHAT ARE CELEBS PLANNING?
Kim told OK! recently that she has so many costume ideas, she can't decide what she'll be for Halloween this year. Guess we'll have to wait and see!