NEWS
Kim Kardashian Takes On False Twitter Tales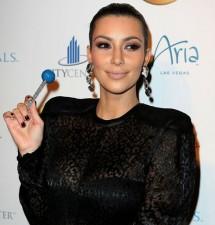 After buzz had been circulating that West Coast fast food chain,Carl's Jr. paid Kim Kardashian thousands of dollars to Tweet about their salads, the reality star decided to use another Internet medium, her blog, to dismiss the rumors. "Carl's Jr did not pay me to tweet about their salads. Yes, obviously I was paid to be in the commercial... we all have to work," Kim wrote.
"But I was not paid to tweet or talk about the salads on my blog, Facebook account, MySpace account or any other online outlets," she said.
Article continues below advertisement
Kim seemed to be offended that her Tweets were taking out of context.
"Am I not allowed to talk about something I like without people assuming I must have been paid to do it? I want my fans to know what products, gadgets, foods, clothes and beauty products I like and I love sharing all that with my fans. You all know I've posted about certain clothes and products on my blog since I started blogging two years ago."
The sensual commercial was released earlier this month, and Kim decided to take the healthy route while promoting the fast food joint, chowing down on the new Cranberry Apple Walnut Chicken Salad. With the tag line, "Who said salads can't be hot."
Kim enjoys her salad dressed in a see-through robe and black lingerie while sprawling across her luxurious bed, followed by a bubble bath.
Even though Kim decided to take a different route in her food selection from previous Carl's Jr. ladies like Paris Hilton and Audrina Patridge, there is still plenty of sex appeal in her twist on the commercial.