NEWS
Kim Kardashian Talks Six Month Celibacy and Growing Old With Kanye West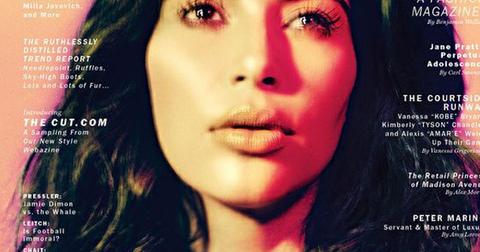 View all comments
In a surprising move, New York magazine chose to feature Kim Kardashian on its annual fashion issue cover.
OK! NEWS: KIM KARDASHIAN "LOVES" THAT KANYE WEST IS "OLDER AND WISER"
While the reality star is dating a bona fide fashionista — Kanye West — she hasn't exactly been hailed as a fashion icon herself. Her famous family may own a clothing boutique, Dash,and she might be a "stylist" for Shoedazzle, and the three sisters may have just released a new line of eyewear and the Kardashian Kollection, but a haute couture designer she definitely is not.
Article continues below advertisement
However, dating a man who's as passionate about the runway as Kanye is might be rubbing off on her.
"If I have a design meeting, or he has one, we come back and talk about how our meetings went," she said. "It's cool, cause you can definitely get more in-depth with someone who actually knows what you're talking about."
She continues, saying shared interests wasn't always something she looked for while cavorting with athletes like Reggie Bush and Kris Humphries.
"When this whole life is done, and it's just the two of us sitting somewhere when we're 80, you want to have things to talk about that you have in common," she told the publication. "I think that's something maybe I didn't value as highly as a quality I cared about in someone."
Many assumed her 72-day marriage was an extended publicity stunt, and Kim claims she didn't date for six months after the split, didn't wear makeup for six weeks (which is practically a lifetime for a Kardashian), lived with her mother for a stretch, no longer reads tabloids and changed her e-mail address.
Article continues below advertisement
"I used to be so involved with what's going on... what's up with this person," she says. "I just really truly feel so much more calm now, and I just don't care."
OK! COVER STORY: GET BIKINI READY LIKE KIM KARDASHIAN & MILEY CYRUS WITH THE HOTTEST DIETS!
Meanwhile, Kimye are planning on releasing a shoe line and even met with PPR CEO Francois-Henri Pinault to discuss their options.
"The potential is huge. They are both brand names that have separately sold millions of dollars' worth of product," mused WWD of a Kanye/Kim line.
Kim knows the shoe industry and it makes a lot of sense. This could be a case of one plus one equals three."