NEWS
Kim Kardashian Will Make a Great Mom!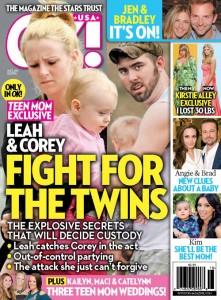 Kim Kardashian has it all: a great career, gorgeous looks, a supportive family and the love of her boyfriend, NBA star Kris Humphries. The only thing missing from the picture is a baby — but insiders say that motherhood is among her goals this year. "Kim's very old-fashioned when it comes to relationships," explains a family friend in the new issue of OK!. "She wants it all: romance, marriage and kids. She loves being an aunt to Mason and wants one of her own."
Article continues below advertisement
It's not hard to imagine Kim dressing up a little girly-girl or doting on a handsome baby boy.
"When the time is right I would love to be a mom," Kim told OK! at the opening of Wet Republic in Las Vegas on April 16. "She's amazing with Mason," says Kim's friend LaLa Vasquez.
Kim spent nearly everyday with her sister Kourtney since she gave birth in 2009 and now frequently babysits. "When I'm not with him, I miss him so much," Kim tells OK!. Adds her friend LaLa: "Whenever it's her time to step into that next chapter, I'm sure she'll be a great mom."
FOR MORE ON KIM'S FUTURE AS A SUPER MOM, PICK UP THIS WEEK'S ISSUE OF OK! - ON SALE EVERYWHERE NOW!