NEWS
Kim Kardashian's Booty Goes Bongo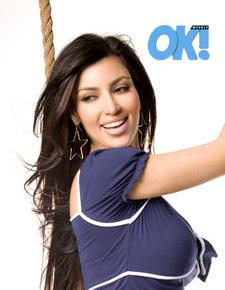 Kim Kardashian's infamous bootylicious body isn't the result of a hardcore workout or a strict diet. Nope, that butt is all due to burgers, Kim reveals to OK!.
"I don't ever really diet because I don't want to be miserable," she says. "I love food."
That she does — at her Bongo photo shoot, the 27-year-old shunned the customary salad for a cheeseburger, a taco, a hot dog, KFC and two doughnuts for lunch. Then it was back to work as the face of the brand's spring 2008 campaign, in which Kim hopes to connect with real women with curves.
Article continues below advertisement
"I'm not your typical stick-skinny model," she says. "There are super-skinny girls doing ad campaigns and I don't think it's realistic. I don't like that skinny body image. I'm very proud of my body image."
And why shouldn't she be — especially when she can fill out a pair of Bongo jeans so well.
"I have skinnier legs and a bigger butt, but they fit me so cute."