NEWS
Kim Spradlin Wins 'Survivor: One World' and the $1 Million Prize!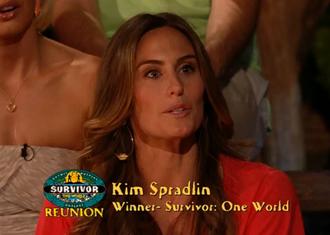 OK! was in the audience for the Survivor: One World live season finale at the Ed Sullivan Theatre in NYC last night as bridal shop owner Kim Spradlin won the title of sole survivor and the $1 million prize after competing with 17 other castaways in Upolo, Samoa, for 39 grueling days.
Considered to be one of the best players in Survivor history, Kim, 29, outwitted, outplayed and outlasted the other contestants while still remaining loyal to her original allies and friends, Sabrina Thompson and Chelsea Meissner, who joined her in the final three. Sabrina walked away with two jury votes, while Chelsea recieved none, but both women agreed whole-heartedly that Kim deserved to win. Not to mention, this was the first time the finale was made up of all women in the top five — way to go, girls!
Article continues below advertisement
"I was genuinely shocked," Kim told OK! at the finale last night. "I spent a long time trying to convince myself that I did not win that money so I could sit there and not look too confident, but it's unbelievable!"
OK! GALLERY: SURVIVOR WINNER ETHAN ZOHN FIGHTS HIV/AIDS & BATTLES CANCER AT NYC MARATHON
And not only did Kim walk away with a million bucks, but she also took home an extra $100,000 after winning the fan favorite prize!
"I never dreamt that I would be in the running for that," Kim confessed. "I was truly shocked."
As for what Kim plans to do with the money, she says she hasn't really thought about it, but she has some ideas in mind.
"Short-term, I'll be paying a lot of bills!" the San Antonio native said. "I got two bridesmaids dress boutiques that I'm really excited to put some money into. And long-term, it would be a lot of fun to just be generous with it and just do some things that I've always wanted to do."
Article continues below advertisement
"This experience was crazy and it opened my eyes to other crazy ideas because it turned out so well!"
OK! NEWS: SOPHIE CLARK WINS SURVIVOR: SOUTH PACIFIC!
So, would Kim play Survivor again if she was asked to participate in an All-Star season?
"How do you say no to All-Stars?" Kim revealed. "I'm glad I'm not, like, leaving tomorrow, but if I had a little time to recoup and be prepared for the drama of the experience, I'd be ready to go!"
Host Jeff Probst revealed last night that season 25 of the show will head to the Philippines, where three contestants who were medically evacuated during earlier seasons will return and be among the castaways battling it out for a shot at the million-dollar prize!