NEWS
OK! Exclusive: Pastor Kimberly Jones-Pothier Says She's 'Not A Sellout' For Joining Preachers Of Atlanta And Admits She 'Always' Has Le'Andria Johnson's Back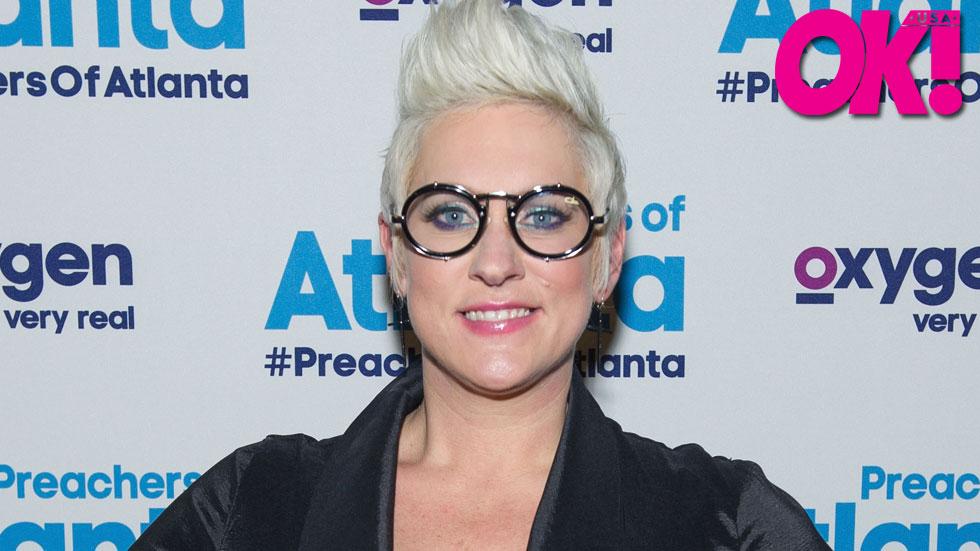 Article continues below advertisement
"Nobody was for it," she admitted. "I've always been one of the persons to push the box. I'm not scared of nothing.  I'm the one that jumped out and got married quick. I always wasn't afraid to take a risk."
But instead of brushing off her family members' concerns, Jones-Pothier said she took their words as a chance to really think her decision through.
"Because I was older this time, I took this more serious. So when they approached me with the show, I turned it down for six months," she revealed. "Then they called me back, and I felt like when I met with them the last time, I really felt like God told me he trusts me with it."
Even when filming for the series began, Jones-Pothier said her family still wasn't on board. But lucky for her, they eventually "came around!"
"I did probably the first month by myself because everybody was afraid of the show. And then about halfway through, my whole family came around and it was awesome," she said. "If I would have listened to them, I wouldn't have done the show."
Jones-Pothier said the show has been the opportunity of a lifetime as she gets to share her ministry and connect with her castmates Pastor Corey Hambrick, Pastor Canton Jones andPastor Judah Swilley. However, Jones-Pothier said she made a bond with one cast member in particular — Le'Andria Johnson!
Article continues below advertisement
"Le'Andria is very controversial in a sense. She just does it," she said. "With the condoms and the cigarettes, I'm so like, 'No! You want me to help them go to hell. No way.'"
Despite their differences, though, Jones-Pothier said Johnson helped her see that they both have a very similar approach to their ministries.
"She is pastoring now out of what she wishes somebody would have done for her. I had to sit back and look and realize she's doing the same thing I'm doing. I'm pastoring the way I wish somebody would have pastored me. I wish someone would have been there to love me back to life. And that's what I've learned form her," she said.
She continued, "People say whatever they want to about her but I've got that girl's back. I know her heart. I know where she's at. I know what she's feeling. I know how awesome she is. And how kind and loving she is. So I just learned to listen before you judge."
Amid the excitement of filming the show, Jones-Pothier, who has a massive social media following, admitted that she still had some major fears when she finally decided to take on the challenge.
Article continues below advertisement
After divorcing her husband of 17 years and starting fresh, Jones-Pothier found a new voice as a minister both in the pulpit and online. But she was concerned that her appearance on Preachers of Atlanta could possibly damage what she says God helped her rebuild.
"I love doing what I get to do. I love that God has trusted me to love people. I love people. And I'm just so honored that God would take somebody that lost everything in 2006 and put me in the mega platforms with T.D. Jakes and all these other people in just two years," she said. "I didn't want to ruin that. I know how the church is so judgmental and I knew that they would probably be looking at me like you sold out. I knew I'd probably miss some engagements and I'd lose some."
Jones-Pothier revealed that she has indeed lost some gigs due to her participation in the show. But she said she doesn't have any regrets about her decision to join the series!
"I have lost some engagements. But the people that say we can't use you because of this show, God always gives me back better," she said. "One thing about me, I ain't gonna sell out. I don't follow a crowd. I'm not trendy."
Jones-Pothier said she is all about being honest with herself and those she comes in contact with. And she feels that has helped her connect with so many people across the world.
Article continues below advertisement
"I am what I am 365 days a year. And even though I have over 1 million people following me on social media, I don't really have haters," she said. "What you see is what you get. I'm not preaching one thing and living another. I let people in. I'm transparent. I know my mission."
"Everything that's ever happened in my life happened by God," she continued. "When I went through my divorce I was so broken. I prayed a specific prayer. And that prayer was, 'God, when you bring me back, you make sure that every ounce of wanting people's approval is broken off of me.' In the morning when I wake up, I say, 'God, put a muffler over my ears and spiritual cataracts over my eyes. Don't let me see or be sidetracked by haters. Let me keep going.'"
And that message of encouragement and fighting through the biggest trials in life is what Jones-Pothier says she hopes viewers will take from the series.
PHOTOS: Bobbi Kristina Brown's Townhouse Sold As Her Family Feuds With Nick Gordon Amid Wrongful Death Lawsuit
"No matter what you've gone through, no matter what people are saying about you, it's just one choice that you make one day to say, 'You know what? I can't stand here. I'm getting up today and I'm moving. I'm getting better. I'm about to show the world what I'm made of,'" she said. "Keep going and watch what God's going to do!"
You catch the premiere of Preachers of Atlanta on Wednesday at 10 p.m. EST on Oxygen!