NEWS
Kirk Cameron on His Anti-Gay Comments: "I'm a Bible-Believing Christian"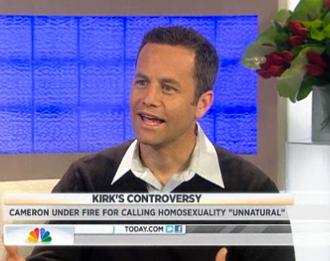 Kirk Cameron launched a heated debate after he made controversial anti-gay comments on Piers Morgan Tonight earlier this month. On the Today show this morning, Kirk explained that he was "surprised" by the reaction to his comments and explained that what he said was not "hate speech."
OK! NEWS: KIRK CAMERON SOUNDS OFF TO PIERS MORGAN ON ANTI-GAY OPINION; GLAAD RESPONDS
Kirk was on Today to promote his new documentary, Monumental, but first addressed the controversy with Ann Curry.
Article continues below advertisement
He wanted to be clear that his reference to homosexuality being unnatural does not mean he hates gay people.
"Absolutely not," Kirk said. "I love all people, I hate no one. ... When you take a subject and reduce it to something like a four-second soundbite and a check mark on a ballot, I think that that's inappropriate and insensitive... To edit it down to that, it certainly didn't reflect my full heart on the matter."
And the former Growing Pains actor says he's been consistent with his beliefs, so people shouldn't have been so shocked.
"I was surprised, frankly, that people were surprised by the things that I've said," he explained. "I have been consistent for 15 years as a Christian. I'm a Bible-believing Christian. What I would have thought was more newsworthy is if I had said something that contradicted the word of God, if I had contradicted my faith."