NEWS
Kirstie Alley Dishes About Dancing with Prince and the Jumpin' Jive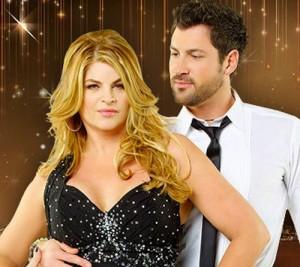 They came. They saw. They conquered and oh yeah, they kissed, too! After Kirstie Alley and Maksim Chmerkovskiy spiced up the dance floor with the jive and a smooch, they dished about the pressure of the pros, dancing with Prince and oh yes, the glorious tutu.
OK! PHOTOS: LAST OF DWTS CAST SHOW UP READY TO WORK AT REHEARSAL
As Team G-Mak raked in a score of 30 with an additional judge last night, Donnie Burns, on hand for "Ballroom Greats" night, Carrie Ann Inaba explained they didn't put enough oomph into the number but she's happy with Kirstie's overall evolution. "You There is such a transformation happening with you, Kirstie!" Bruno Tonioli added, "You might have gone wrong, but as an entertainer you were superb!"
Article continues below advertisement
OK! EXCLUSIVE PHOTOS: BEHIND THE SCENES AT DANCING WITH THE STARS' GUILTY PLEASURES NIGHT
Considering he can be pretty critical, Kirstie told reporters his comment made her feel really good. "I was so having fun I love the audience, the way they were receiving and I just screwed up, what can I say." And in case you're wondering, Kirstie did indeed like the costume. "I like the tutu but I screwed up." She added, "It really is like showing up for a Halloween party in a great outfit and then you get dumped."
As Kirstie's weight whittles down week by week, she told OK! the transformation is just what she expected. She explained, "It's going pretty fast. I expected it to happen but it's literally shredding like jushhzzz (weird sound and arm movement around her hips). Which I mean, who wouldn't want that. The other thing that I also have is enormous stamina."
OK! BLOG: KENDRA WILKINSON — "I FELT AMAZING!"
And talk about stamina! Kirstie actually danced on stage with Prince this past weekend! "Whooooooo we had so much fun!" Turns out she was actually trying to hide and avoid going on stage but Maks made a big deal out of it. She told OK!, "Mr. SexStick goes, 'Yeah! Get over here, whooooo!' Because his manager came over and said, 'He Prince wants you to dance on stage' and I go (she shrugs her shoulders, and makes a nervous face) just like that."
Article continues below advertisement
Maks chimed in, "We were on Prince's stage just jumping around like kids you know what I mean, that's what I'm most proud of." As for something else he's proud of? Handling the pressure. Maks told OK! the pressure is on for the pros. "In the beginning it's a little easier because we have three weeks to prepare the first dance a little longer for the second and then it just hits you in the face and it's four dance and then it's two and four."
OK! EXCLUSIVE PHOTOS: DANCING WITH THE STARS BEHIND THE SCENES AT RESULTS NIGHT
As six couples remain before tonight's elimination episode to dwindle it down to five, Maks feels the burden of the competition now. "I want people to understand that the entire show is on us. Kudos to our producers for coming up with the stories and the lights and everything but without us there's no show. And the fact that this group of pros is that good at what we do is a big deal. But the pressure…you guys have no idea."
Looks like Kirstie appreciates her dance partner's moves and grooves. She added, "And it's got to be hard when you're so good and you're teaching someone who screws up over and over."
Reporting by Amanda Champagne