NEWS
Kendra Wilkinson's 'DWTS' Blog: I Felt Amazing!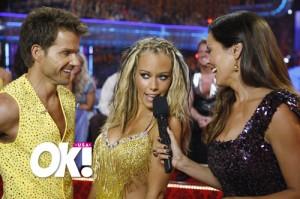 Every week, reality star, sports lover, mom and former Playboy bunny Kendra Wilkinson-Baskett will check in with OK! as she learns how to shake it on the dance floor on Dancing With the Stars! Aided by her pro partner, Louis Van Amstel, Kendra has gotten ready to rumba in no time!
I felt amazing with my dance. I loved my outfit, my hair my makeup, everything. I was confident going into it this time just because I was so in my element.? I was having a good time with it. The whole time so far I thought I was having a good time but last night I really did have a good time. And now that I know what REALLY having a good time feels like I don't want to lose that feeling.
Article continues below advertisement
OK! EXCLUSIVE PHOTOS: BEHIND THE SCENES AT DANCING WITH THE STARS GUILTY PLEASURES NIGHT
I mean I will always be my own toughest critic, but now I can also see it's just a show and to have fun too.? My focus in the beginning... well I was all over the place and now I can really focus more and get the routines down??.
The hardest part is probably just getting your body and your head to work together, haha! Sometimes I'm not tired at ALL but my body is exhausted another times my body feels great buy I am mentally exhausted. The best part is hitting a move or a routine and knowing you hit it.??No one's asked for pointers yet, haha! But I would be happy to teach everyone!
OK! EXCLUSIVE PHOTOS: DANCING WITH THE STARS — BEHIND THE SCENES AT RESULTS NIGHT
OMG Bruno's Elton John video outfit was SO funny!!! I couldn't believe it was really him!!!
I am always nervous about eliminations! There is something about the lights dimming and the music that makes you so nervous! ?Its no surprise but my fans have been my biggest supporters. I read what they say on my twitter and everything and it just means the world to me. It's really been awesome.?? Every night I practice with Hank! After this is done we are going to for sure take dance classes together.