NEWS
Kirstie Alley's First Thought of Maksim Chmerkovskiy: "I Thought He Was an A**Hole!"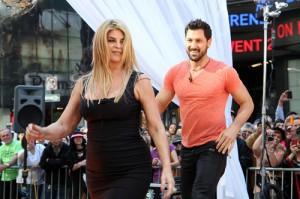 Kirstie Alley wants everyone to know she loves bad boys! The Dancing With the Stars runner-up told OK! Sunday night, "I like bad boys. I'm okay with bad boys, as long as they have a good heart."
OK! GALLERY: CHELSEA KANE & KIRSTIE ALLEY STOP BY LIVE! WITH REGIS AND KELLY IN NYC
Kirstie, who appeared at Dance with Me Studio's summer invitational in NYC, was talking about her partner Maksim Chmerkovskiy, who is known as "the bad boy of ballroom" on the show.
Article continues below advertisement
What did she first think of him when she met him? "I thought he was an a**hole!"
"You know the way they edit these packages... " she said to OK! while laughing.
OK! VIDEO: KIRSTIE ALLEY'S DANCING WITH THE STARS FREESTYLE — WATCH ACTRESS GET SOME SERIOUS AIR!
What was the biggest lesson she learned being on the show?
"Don't f*** with Maks! He's always right. He told me that in the beginning. If I say, 'Oh my God, my back hurts,' he goes, 'I don't care.' He said, 'I don't have time to have sympathy for you because we may only get four days to learn the dance.' "
When OK! asked Maks if he was coming back to the show, he didn't have a definitive answer yet. "I have a lot of amazing people who won't let me make the wrong decision."
We hope that decision is to return next season!