NEWS
Get It! Hot Duo Kourtney Kardashian And Addison Rae Stun In Poolside Photo Shoot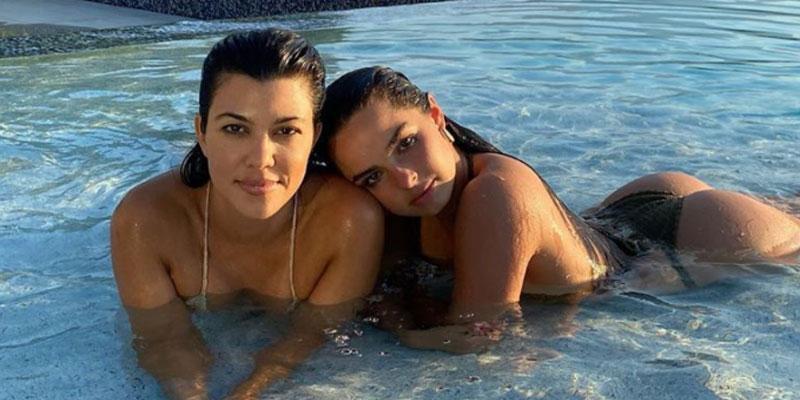 Kourtney Kardashian and Addison Rae made it clear they are not ready to ditch their bikinis for sweaters and jackets just yet. On August 24, Kardashian, 41, and Rae, 19, looked relaxed in the pool as they posed for the camera. Kardashian simply captioned the picture with a mermaid emoji.
Earlier that same day, the duo showed off their fit physiques during a poolside photo shoot. "picture me I picture you," the 41-year-old captioned the snapshot. In the picture, the KUWTK star is seen wearing a skimpy blue bikini with a camera in her hand, while Rae is laying on the ground in a purple bathing suit.
Article continues below advertisement
MORE ON:
Celeb Bikini Bodies
Article continues below advertisement
Luckily, Rae and Kardashian have formed an unbreakable bond over the past few months. "I've had such an amazing time spending time with Kourtney and meeting the family," she told E! earlier this month. "They're all just such loving people that genuinely care about each other. That just continuously inspires me."
Rae also touched upon the Kardashians' "amazing bond," adding, "it really just makes me love them even more as people, because not everyone gets to see every second."
"It just really shows you how genuine they are. It's not all just for the show, it's how they really are," she added.
KOURTNEY KARDASHIAN COOKS WITH HER BUTT CRACK OUT WHILE WEARING A GLAMOROUS GREEN GOWN
Kardashian even seems to be imposing wisdom onto Rae. "One of my friends, Kourtney Kardashian, has told me to appreciate and look at the bigger picture and to not get so caught up in the micro," she told PEOPLE. "Just enjoy what you have and don't let things get to you too much because there's so much else to be happy about."
Even though summer may be ending, we hope that Kardashian and Rae's TikTok videos and photo shoots are far from over.