NEWS
Kourtney Kardashian Diet Special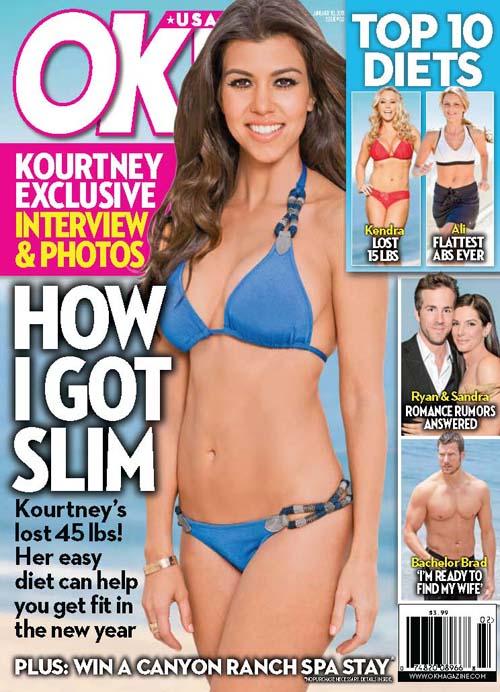 Diet special: How Kourtney Kardashian lost 45 pounds. She did it without surgery. Her secrets can help you shed the holiday weight.
Plus, the 10 best diets in Hollywood and advice from Hollywood's health gurus.
Sandra and Ryan: Sandra Bullock and Ryan Reynolds are tipped to be Hollywood's hottest couple of 2011 — and they're doing nothing to squash the rumors.
The Bachelor: Brad Womack says he's ready to find a wife! After breaking two hearts during his last stint on The Bachelor, is Brad ready to tell the truth?
Article continues below advertisement
At Home with Karina Smirnoff: Karina's home away from home. The Dancing With the Stars pro loves spending time at fiancé Brad Penny's L.A. estate. Only OK! takes you inside.
Queen Latifah: She's hotter than ever! After more than two decades in the biz, Queen Latifah's seen it all, but she's just getting started.
Debbie Flores-Narvaez: The missing showgirl disappeared after landing her dream role in a Las Vegas revue. Now, her family hopes she returns safely.
Plus:
Fashion expert Lloyd Boston gives you the scoop on what's in and out for 2011; The must-have celeb-inspired lip shades that will have you looking gorgeous all week long; The Bad Girls Club's Nikki and Char give OK! a tour of their favorite L.A. hot spots