NEWS
Kris Humphries on Kim Kardashian Divorce: "To Me, Our Marriage Was Real"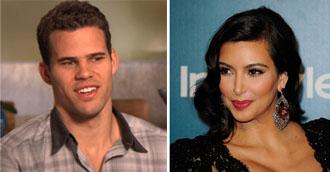 Despite what haters may think, Kris Humphries knows how he felt about Kim Kardashian and insists that, in his eyes, their relationship and love was real. The 27-year-old NBA player sat down with Access Hollywood to talk about how he's moving on and what the future holds for him.
OK! GALLERY: KRIS HUMPHRIES "FELT LIKE RUDY" DURING NEW JERSEY NETS GAME
"To me, the marriage was real," Kris confessed to Access Hollywood's Jill Martin in an exclusive interview. "I would never go through something or do something that wasn't real or I didn't believe in. So, I could really only speak for myself in terms of that."
Article continues below advertisement
Many people assume that Kris and Kim's 72-day marriage was simply a plot off which they could bank, in more ways than one. But Kris, who was re-signed by the New Jersey Nets after the NBA lockout, insisted that fame and fortune had nothing to do with his decision to get married to the queen of reality TV.
"If it was a plan for money, I think I would've done the plan a little more differently myself," Kris explained, adding that he "can't control what people think" of him.
"I hope that people judge me by my work and my foundation, the way I approach basketball and the way I approach life," Kris said, "caring about people and trying to give back where I can. Money doesn't rule my life, so I would never do anything strictly for money."
OK! NEWS: KRIS HUMPHRIES GETS BOOED ON COURT DURING FIRST GAME WITH THE NETS
And though all the media attention and scrutiny over his relationship with Kim took a toll on him, Kris said he's "in a great place," thanks to his faith in god, his family and his career.
"Basketball is where you can go to not think about anything and just let loose," Kris explained. "I always tell people that basketball is like my therapy. Some people talk to psychologists and stuff like that; I just need to go play basketball."
Do you think Kris is being sincere about his take on his marriage with Kim?