NEWS
Kristen Stewart: "Charlize Theron is a F***ing Movie Star!"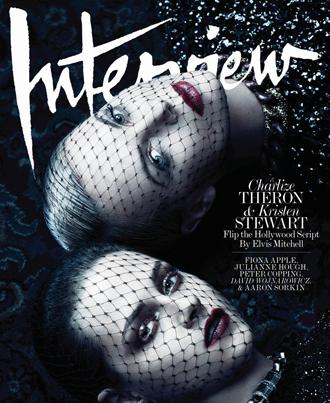 Article continues below advertisement
"She is unlike anyone I've ever encountered. She is one of those people who walks into a room and everyone knows it," Kristen told the magazine. "She's a f***ing movie star. It's funny, too, because she always says, "I'm not really a performer." But I'm like, "Yeah, not at all." laughs She's an actor and a performer."
Charlize told Access Hollywood last month that K-Stew is "amazing."
"I love that girl, like, I would jump off a building for that girl," she confessed. "She's the real deal… and she gives really good back rubs...She's got a tremendous amount of talent and, you know, I think you can have talent, but if you don't have tenacity and moxy… She's bad a**."
OK! NEWS: CHARLIZE THERON SAYS NEWLY ADOPTED SON JACKSON IS "DOING GREAT"
Kristen agreed, telling Interview that she and her evil queen compadre are two actors not afraid to leave their comfort zones.
"We both are absolutely willing to hurt ourselves to do what it takes to get the right feeling, and not all actors are like that...She's not the type who is easily rocked on a set. She's very much in control of her thing."
Wow. If this doesn't make you want to see Snow White and the Huntsman this weekend and see all this moxy and bad a** for yourself, we're not sure what will.
The film opens June 1.