NEWS
Kristen Stewart, Dakota Fanning Get Giggly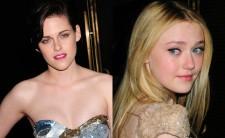 Kristen Stewart can't contain her joy when she finally gets time with "best friend" Dakota Fanning during The Runaways premiere held Wednesday at NYC's Landmark Sunshine Cinema.
The Twilight pals crack jokes together, laughing, moments after making their way backwards down the red carpet, arms locked, with Runaways pals Joan Jett, Riley Keough and Cherie Curie.
"It's amazing," Dakota, 16, says of her friendship with Kristen, whom she got to know while filming New Moon. "She's become one of my best friends. We're really close. I think it's really great working with your friends, and to be completely open with someone and to have no defense mechanism, you know what I mean? Just completely open with that person. I love that – especially for this film."
Article continues below advertisement
Even the girl-on-girl scenes in the rock biopic about the '70s girl group were just part of the job for the actress who has been working since age 6.
"I think because we're friends, it's just a thing," Dakota, who plays Cherie, admits. "We're actors, and it's something that happens. You know – whatever."
Hm, does Dakota approve of Kristen's beau Robert Pattinson (who is attending his own Remember Me premiere in England tonight)? She simply cackles.
For Kristen, 19, playing Joan was a dream come true.
"I said that I wanted to do it as soon as someone said 'there's a Joan Jett movie, and they want you to play her,'" she says. "You do a movie for a million reasons, and I realized once I got into it that there was a lot more to Joan than I knew about."
Hm, what does she relate to about the "I Love Rock 'N' Roll" sensation?
"She is who she is, to put it completely plainly," Kristen says. "There's not some deep way to put it. She almost really innocently doesn't even realize that she is that way. If you said 'God, you're such a bad-ass, you're so yourself all the time,' she'd be like 'what?! I don't even know what you're talking about.'"
Article continues below advertisement
HOT GALLERY: 'THE RUNAWAYS' TAKE A BITE OUT OF THE BIG APPLE
Playing the iconic figure was a learning experience.
"To be honest, the most difficult thing were the performances, because I'm not a performer. The singing stuff. You learn so much about yourself. I don't know how to be more specific about it."
I like Kristen. She's got a cool, laidback way about her that makes her easy to be around.
Here comes writer/director Floria Sigismondi, who is decked out with retro, hair-sprayed bangs. She faces heat for the girly action.
"There isn't a lot of girl-on-girl kissing," she says. "It's not a big scene. There was one. I don't think it was awkward. It was just another scene."
How has Kristen and Dakota's relationship evolved since shooting The Runaways?
"They became friends, which is really great for this film," Floria tells me. "They call each other best friends now. It's nice that came out of it."
She describes Kristen as "vulnerable" and Dakota as "grounded."
Surprise! Flashes pop as Kirstie Alley arrives with son Drew and daughter Lillie, who can't wait to experience their first premiere.
What does she think of Dakota doing such a racy scene when she was not even 16 at the time?
"I'm sure she's a very smart girl," Kirstie says. "She's a great actress, so I'm sure she has good judgment about what she did and didn't do."
The Runaways hits theaters Friday.