NEWS
Kristen Stewart on Filming 'Breaking Dawn' Wedding: "So Emotional In Such a Real Way"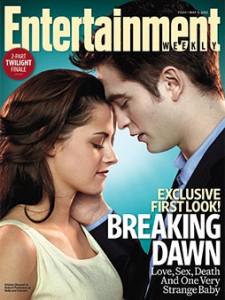 We can only imagine (and we absolutely have tried) how it would feel to be Kristen Stewart walking down the aisle to marry Robert Pattinson while filming their wedding scene for The Twilight Saga: Breaking Dawn. And Kristen admits she got a little emotional while filming it!
OK! NEWS: ROBERT PATTINSON & KRISTEN STEWART'S ROMANTIC BREAKFAST IN BED IN NYC
Kristen, Rob and Taylor Lautner cover the new issue of Entertainment Weekly, which gives a first look at the final Twilight film!
Article continues below advertisement
"It was one of the coolest things that I've done," Kristen tells Entertainment Weekly on filming the wedding scene with Rob. "There was a certain point when I walked on set, and I saw everyone from the entire cast sitting there in the pews, about to do their bit. And it was just so perfect for me in that moment."
"It was so emotional in such a real way," she says. "I literally felt like thanking them for coming."
Pretending to marry your boyfriend would be very emotional!
OK! VIDEO: WATCH ROBERT PATTINSON KISS KRISTEN STEWART AT WATER FOR ELEPHANTS PREMIERE
But Kristen wished the birth scene could have been more emotional — in a graphic way.
"It's funny because when the PG-13 issue comes up, everybody thinks it's all about the sex," she says. "The birth is really effective, and I've heard it really hits you in the face. But what it could have been? It could have been shocking and grotesque, because that's how it was written in the book."
Article continues below advertisement
"I would have loved to have been puking up blood," Kristen says with a sigh.
However, she was pleased that the honeymoon was not as graphic saying, "It feels like a real love scene, not necessarily vampire-y, which is good."
But director Bill Condon says, "We shot everything — whether it's the lovemaking or the childbirth — as potent and powerful as it can be. It will be interesting to see whether there will be people who think it too disturbing for this universe."
Pick up the new issue of Entertainment Weekly, on stands Friday, April 29, for more of their interview!