NEWS
Kristen Stewart on Filming with Dakota Fanning: "I Wasn't Allowed to Grope Her"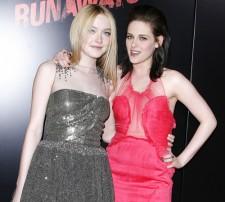 Kristen Stewart and Dakota Fanning got very close while filming The Runaways, but not too close! Although they did share a kiss, it couldn't go any further than that — by law.
OK! GALLERY: THE RUNAWAYS ROCK OUT AT THEIR L.A. PREMIERE
Kristen and Dakota play two teenagers, modeled after Joan Jett and Cherie Currie, who are part of the all-girl '70s rock band The Runaways.
Even though Kristen and Dakota looked like rock stars, Kristen wouldn't say they're as musically gifted.
Article continues below advertisement
"It looks great in the movie, but we are not close to the musicians that they are," Kristen told Access Hollywood.
"I loved the outfits, I kept most all of them," Dakota said. "Cherie gave her corsets away and we had them remade for the movie, so I'm going to give her one and I think that will be really cool."
"I gave Joan a leather jacket," Kristen said. "I wrote all over the back of it."
They had the look and the sound of Joan and Cherie and when it came to their friendship, Kristen and Dakota went as far with it as they legally could!
"She was 15, and I wasn't allowed to grope her," Kristen told Access Hollywood. "I'm actually not kidding, there are major restrictions that I don't remember from when I was younger.
"It's just something that happened in their lives," Dakota said of their kiss. "In the script, it's not like a big build up or something that they talk about afterward."