NEWS
Kristen Stewart on Kissing Dakota Fanning: It's Not Romantic!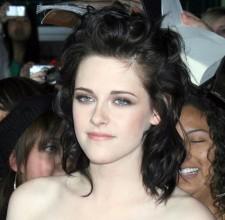 Filming a make-out scene with her friend Dakota Fanning is no big deal for Twilight star Kristen Stewart.
"It's just something we did," Kristen, 19, said last night at the Sundance Film Festival premiere of The Runaways, the biopic of Joan Jett's 1970s all-girl group, reports E! Online.
"In this story, it's so not like a romantic thing," she says. "It's just something that they just do."
Kristen Stewart is denied entry to a bar at the Sundance Film Festival
Article continues below advertisement
Kristen and 15-year-old Dakota — who also play enemies in New Moon and Eclipse — play Joan Jett and Cherie Curie, the founders of the hard-living rock band.
See how Kristen Stewart stays warm in the snow
Kristen also had to drop trou for the movie, filming a nude scene, reports MTV News. In the last shot of The Runaways, K-Stew is glimpsed floating underwater without any clothes on.
Was it her? "Yeah," she says. "But you can't see anything."