NEWS
Kristen Stewart Places 'Breaking Dawn' Sex Scene Blame on Robert Pattinson: "He's the Thruster!"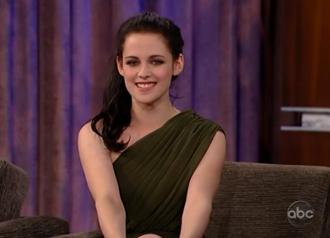 Article continues below advertisement
"It was pretty explicit and I was suprised at how explicit it was, but Rob said that it was even more explicit than we saw," Jimmy explained on his show. "And that you wanted it to be more explicit but someone came in an put a stop to all the thrusting."
"He's the thruster!" Kristen argued about Rob. "It's obviously not me."
"What takes you from a PG-13 to an R rating?" Jimmy asked.
"Noises," Kristen shyly whispered.