NEWS
Robert Pattinson on 'Breaking Dawn' Sex Scene Restrictions: "Just the Tip"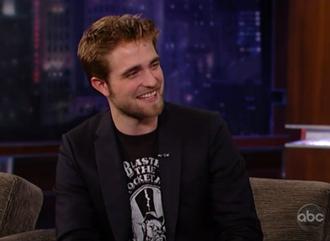 Article continues below advertisement
"It was going to be way more explicit at one point. I mean it should have been," Rob joked. "But it came down to a whole bunch of different factors. It was rated-R for ages and they really had to fight to cut it down."
"And were you in there fighting going 'No, we need to see my penis?' " Jimmy asked.
"It wasn't me. It was Kristen Stewart who was causing it to be R-rated. I'm kind of still doing the same thing — the general movement."
OK! NEWS: KRISTEN STEWART TO ROBERT PATTINSON AT BREAKING DAWN CONVENTION — "YOU BETTER WATCH IT!"
But Jimmy wanted Rob to elaborate even more and asked, "What is the general movement because I'm still having trouble with it."
"This was literally about the movement. So it was kind of about like thrusting. They kept telling you not to move," he explained further. "They almost wanted to have a kind of leash on the back of you so you couldn't thrust past a certain.... You could literally only like... just the tip or whatever."
Rob's adorable parents were even in the audience that night and Jimmy joked to them, "He meant in gratuity."
But really, Rob knows that fans have put a lot of pressure on the sex scene.
"They want to see thrusting," Rob joked.
Watch a clip of the hilarious interview, below!