NEWS
Vampire Bella Protects Renesmee from the Volturi in New 'Breaking Dawn - Part 2' Teaser Trailer!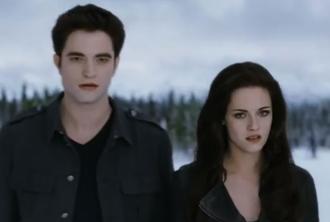 Tomorrow, Lionsgate and Summit Entertainment will be releasing the first full trailer of The Twilight Saga: Breaking Dawn - Part 2 to celebrate the 111 birthday of Edward Cullen, but today, they're giving us a sneak peek at the final installment of the franchise!
OK! NEWS: FIRST LOOK! EDWARD & BELLA WITH RENESMEE IN TWILIGHT SAGA: BREAKING DAWN - PART 2 PROMO PICS!
In a new 10-second teaser trailer, Bella (Kristen Stewart), now a vampire, protects her half human-half vampire baby Renesmee (Mackenzie Foy) from the threats of the Volturi, who are coming to claim what they think is an immortal child.
Article continues below advertisement
Although Edward (Robert Pattinson) wants to keep his family out of harm's way, he and sister Alice (Ashley Greene) know the Volturi are coming and won't stop until they catch a glimpse of Renesmee.
And how could we forget about Jacob (Taylor Lautner), who imprinted on Renesmee at the end of Breaking Dawn - Part 1 and will do anything to protect his love from the wrath of the high and mighty vampire clan.