NEWS
Kristen Stewart's a Beautiful Blonde for New Cover of 'Vogue'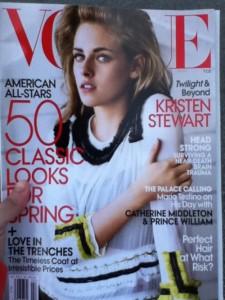 Article continues below advertisement
"I choose things that are so overly ambitious, and if I can't do stuff like that, I don't want to be doing this," she tells Vogue (via Just Jared Jr.).
OK! GALLERY: TWILIGHT THREESOME TAKES OVER AS PEOPLE'S CHOICE AWARDS WINNERS
And that way of thinking, including starring as Bella, has earned her a lot of money, but she wants to do something good with it.
"Anytime I hear that somebody's really rich, the first question is 'Do you do anything with it? Or do you, like, chill? You just sit on it?'"
Kristen, after researching roles, learned she would like to set up a network of halfway houses with her money to help people recover.
"That would be amazing," she reveals. "Right now it's the thing I feel most connected to."
OK! NEWS: WILL KRISTEN STEWART JOIN ROBERT PATTINSON AT THE GOLDEN GLOBES?
But she also feels incredibly connected to her Twilight character, Bella Swan.
"She's a character who is embedded in so many people's psyches at this point. It's starting to enter my head a lot more than it used to because it's at the end and it's come such a long way," she explains. "I just want the fans of the book to be happy. I don't necessarily care about anyone else."
Are you Twi-hard happy so far?