NEWS
'Twilight' Threesome Takes Over as People's Choice Awards Winners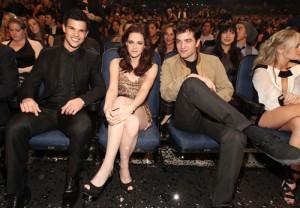 For Twi-hards, sitting through the 2011 People's Choice Awards last night may have been pretty painful until the lovable Twilight threesome appeared and saved the night! Taylor Lautner, Kristen Stewart and Robert Pattinson took over the Nokia Theatre in L.A. when they arrived straight from the Breaking Dawn set to the delight of their fans!
OK! NEWS: PEOPLE'S CHOICE AWARDS 2011 WINNERS — TWILIGHT REIGNS VICTORIOUS!
Article continues below advertisement
Taylor helped Kristen walk up to the stage to accept the award for Favorite Movie Actress. While Kristen was her typical nervous self on stage, we think she may be improving. She certainly looked stunning in her short sequined dress and Bella-like hair!
OK! NEWS: ROBERT PATTINSON TO ATTEND THE PEOPLE'S CHOICE AWARDS!
Until the Twilight stars arrived to the Awards the show seemed to be missing a certain something, but Queen Latifah quickly made up. The host spent some quality time chatting with the threesome during the show, which made Kristen even more nervous when she was put on the spot!
Taylor, Kristen and Rob all walked up to the stage together at the end of the night to accept the award for Favorite Movie for The Twilight Saga: Eclipse.
What did you think of the Twilight highlights of last night's People's Choice Awards?