NEWS
Robert Pattinson Likens 'Breaking Dawn' Sex Scene With Kristen Stewart to "Doing Twister"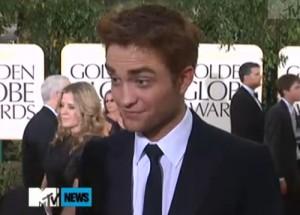 Robert Pattinson can't break through reporters on any red carpet without spilling some news on Breaking Dawn. The Twilight heartthrob is proud of the film and a little surprised about Summit Entertainment's choice to reveal Bella and Edward's honeymoon picture so early!
"I love how they release that for the first one," Rob told MTV News, on the Golden Globes red carpet on Sunday. "Just give it all away, you know?"
Article continues below advertisement
In the photo (embedded below), Bella looks peaceful and chaste as she lies under a strong Edward, whose gaze is fixated on his new wife.
"I think I'm sniffing," Rob quipped of his actions in the pic.
Rob is no stranger to enduring sex scenes on movie sets — Uma Thurman in Bel Ami and Emilie de Ravin in Remember Me — and even though he is very comfortable with co-star and offscreen leading lady Kristen Stewart, he said it doesn't make it any easier.
"It's always awkward in a way if you're doing it with anybody," R-Pattz said, chuckling. "It really depends on how it's staged and stuff. It's like doing Twister."
This is one game of Twister we can't wait to spectate!