NEWS
Kristy Lee Cook's payback!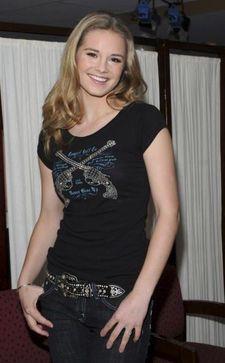 Being made to cringe by the judges on American Idol is a weekly occurrence, and most contestants don't get the chance to turn the tables. Kristy Lee Cook knew she was going to take hers on her harshest critic, Simon Cowell, when she was eliminated on last week's show.
"When I was standing there in the bottom two with Brooke White during commercial break, I asked the stage manager if I can do whatever I want on the stage, since could be my last time. And they said, 'Sure, go for it,'" Kristy revealed to me when she stopped by the office yesterday. "I wanted to make Simon feel very uncomfortable like he made us feel every week, and I wanted to go out with a memorable exit."
Article continues below advertisement
Kristy's tableside crooning of her final song, Mariah Carey's "Forever" definitely got to Simon. After the elimination, Simon told Kristy to "stay country, because it suits your voice, and thanks for making me feel very, very uncomfortable," she laughs.
Kristy leaves the show with a cool, if not ironic claim to fame: she's one of Idol's top contenders for the most times in the bottom three. "And to be still standing after all those times was pretty good for me," she says. Hey, it's always good to leave Idol with some kind of title. For more of Kristy's exclusive interview, click here.
Catch American Idol: elimination round on Wednesday, April 23 at 9 p.m. on Fox.