NEWS
Kyle Richards Returns to Acting in 'Deadly Sibling Rivalry'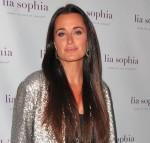 If you caught the last season of The Real Housewives of Beverly Hills, then you saw a sibling rivalry (or at least a sibling spat) unfold between Kyle Richards and her sister Kim. Well, looks like Kyle is returning to her acting roots for an upcoming movie!OK! VIDEO: THE REAL HOUSEWIVES OF BEVERLY HILLS SEASON TWO SNEAK PEAK REVEALS LOTS OF DRAMA!
In the Lifetime movie, Deadly Sibling Rivalry, Kyle will share the screen with Charisma Carpenter. Kyle told E! News to not over think it. "Don't think too much into the title." In the movie, a set of twins played by Charisma, one is trying to take identify from the other. Kyle will play the evil sister's BFF. It's hard to think the housewife made her movie debut in 1978 in the scary flick, Halloween!
Article continues below advertisement
Looks like acting isn't the only gig on her plate right now. Kyle will release a book and handbag line this coming January and oh yeah, the second season of The Real Housewives of Beverly Hills. From the looks of it, sounds like Kyle is ready to for the cameras to roll in spite of a rough first season.
OK! VIDEO: WATCH ANDY COHEN "LOSE HIS COOL" AT REAL HOUSEWIVES OF NEW YORK REUNION
"The reunion was absolutely torture. It's absolutely torture because you see things that the girls are saying that you never knew they said about you, and all of a sudden you're like, 'Wait a minute! I thought that we were friends? I thought we were OK?' "
If we can make any assumptions about the next season based on the season two trailer, looks like even more drama awaits! The Real Housewives of Beverly Hills will premiere on September 5.