NEWS
Watch Andy Cohen "Lose His Cool" at 'Real Housewives of New York' Reunion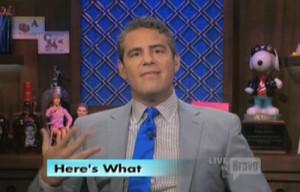 Article continues below advertisement
"This time, ladies and gentlemen, they broke me," Andy said before replaying a clip of himself yelling back at the ladies on the reunion. "I couldn't get a word in and they broke me."
In the clip, Andy eventually screams, "Shut the f*** up! Seriously. Shut the f*** up!"
And Andy feels bad for losing it.
"I lost my cool everybody," Andy confessed on his show. "It was not my proudest moment. It was not. But in my defense, those ladies would not shut the f*** up."
As a guest on Andy's show, Neil Patrick Harris had a thought on what Andy should do moving forward.
"You need to eliminate all of them and start from scratch with New York people and get people that have more to do in their lives than yell at each other and create conflict."
OK! NEWS: RAMONA SINGER BEATS ABUSIVE PAST
Watch a clip of Andy & Neil's discussion (via AOL TV), below!